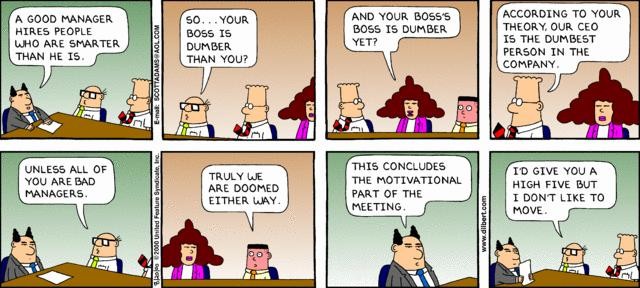 To be honest, am pretty much fed up with all the How-to:
recruit/retain/manage/lead/inspire your employees etc….motivational junk in social media. Especially on LinkedIn. There is endless barrage of articles and quotes from 'business leaders/management gurus/trend setters/C-levels and rank-'n-file  members who, all of a sudden are allowed to share their "wisdom" with the crowd. Predominantly,  a copycat regurgitated rather banal organizational recipes for improving work environment and driving productivity up.
So would be actually nice to know who implements all this flood of advice. Hey you,
who read how to turn failure into success, encourage your employees and propel your managerial EQ to the "leadership" level, come forward and confess below – in the comment section. Tell us who inspired you most, which "revelation" and how it "drove your performance up"?
Understandably, it's much cheaper than buying a book, even on Amazon, and MBA programmes are universally slammed – and about time too – as totally useless. So these social networks' 'perception-changing' canapes are positioned to become the instant magic formula to convert your average office Joe into a management wizard or human ROI machine. Just become a member – preferably a paying one – and have a one quick gulp of  decades long experience of a seasoned CEO or rub some of that glittering star dust of a pimpled teenage entrepreneur, who's been kissed by Lady Luck, and their 'funky' redundant App used by school friends has been snapped up over night  by Marissa for zillions . Welcome to the Business OZ of the digital era. Yeah, right.
The plain stupid non-C level non-guru ME can't keep but wondering how Napoleon, Bismarck, D'Israeli, Churchill, Ford, Rockefellers and the bunch  managed states, wars and financial empires without those enlightening 'cookies'. Hey, there were some females as well, you know: queens and concubines (just think of Madam Pompadour and her powdered wigs 🙂 ) who made the world go round. Don't recall any of them thinking that it all could be achieved, so to speak, at the snap of a finger.
But then, WE just discovered that ingenuity, talent, experience  and even SHEER LUCK can be digitally transplanted. Just like that. I think I'll go for a Nobel.
Well, gimme pics of a cute furry animal any time. Much more effective to boost MY productivity….